How much does window replacement cost in Winnipeg?
You can increase the value of your home with the right replacement windows, so it's no surprise that homeowners are increasingly interested in them as an investment. Replacement windows can make it easier to sell your home across Winnipeg, too. But before you purchase replacement windows, you should understand how they work and how much they cost. This guide covers everything from installation options to window types and costs, so you'll know what to expect from your replacement windows before you buy them.
An amazing way to transform the appearance of your home and improve its resale value is to replace old windows. Selecting the right window helps moderate the temperature and enhance natural light penetration into your home. Also, an excellent window replacement and door installation make a difference at home in appearance and structure.
Before you decide on the type of window installation you want, it is best to read this guide to learn about factors that are crucial to the state of your windows in the long run. Examples of such elements are temperature, ventilation, and light. In addition, you will learn why it is essential to replace your home windows.
Temperature
Heat can do more than just make you miserable and cause you to turn up your AC. It's also a major factor in how effective your home's replacement windows are at preventing heat from entering through them. Heat tends to get into homes both directly and indirectly, but if a window isn't well-insulated, it will lose its ability to prevent either type of heat transfer. However, high-quality replacement windows incorporate multiple features that help keep out hot air: double-paned glass; insulating spacers between panes; and heavy or vinyl frames that resist temperature changes.
Ventilation
Homes built in decades past often had problems with stale air, particularly when it came to their windows. Most homes that were built before 1970 had aluminum-framed windows with a single pane of glass and no ventilation. These types of window did little to keep out cold air or heat, making them extremely inefficient and contributing to sick days at home.
Luckily, many homeowners now have access to energy-efficient replacement window technology that is helping improve indoor air quality. Manufacturers are integrating new features into their products such as double panes of glass, high-tech glazing films and automated venting options (exhaust fans). Newer replacement window products can also help reduce noise pollution from outside sources like traffic or construction crews.
And if you're worried about aesthetics? The best replacement windows on today's market look just like traditional wood frames but come with all of these great benefits. If you think it might be time to update your home's windows, consider getting quotes from local contractors who specialize in installation. You may be surprised by how affordable they are!
Light
Do you have a room in your home that doesn't get enough natural light? Having plenty of light in a room can make all the difference in how it feels. Replacing old, drafty and cracked glass with new, energy-efficient glazing will bring more sunlight into your home and make it more comfortable. 
Although replacement window products have been around for decades and millions of Canadian homes have been outfitted with them, many homeowners still don't know how much bang they can get for their buck by upgrading their home's windows. With a bit of research and a little planning, it's not hard to determine whether or not you should replace your home's older, drafty windows with modern replacements.
Replacement Windows
These types of windows are new windows, but they suit the existing frame with no nailing flange. Without any damage to the old structure, replacement windows are easy to install compared to new windows. It is essential to know that window installation needs high precision. Hence, you need to engage the services of a professional to do the job.
Energy Star Windows
The majority of American homeowners are acquainted with the Energy Star label. However, the name is relatively new in Canada. Energy Star is the Environment Protection Agency (EPA) initiative to recognize products that satisfy government standards for energy efficiency.
Energy Star windows are products created to save energy. To enhance efficiency and reduce energy consumption, the window comes with non-conductive framing materials, as well as multiple panes with low-emissivity coatings.
Types of Windows
There are a variety of replacement window styles, including casement, sliding and double-hung. A casement window is one that opens like a door. Sliding windows glide horizontally on tracks, while double-hung ones open vertically with two sashes (frames) that move up and down.
If you're in doubt about which style to choose, consider that top-hung units tend to be more energy efficient than other designs—but only if they aren't permanently exposed to sunlight. The following types of windows available to you in the market:
Sliding Windows

Casement Windows

Double Hung Windows

Accent Windows

Bay/Bow Windows

Awning Windows

Picture Windows
Sliding Windows
Windows in this category may have one or more fixed panels. Also, one or more of these panels slide in horizontal tracks. However, it is only possible to open half of the window at a time. The reason for opening the window includes ventilation. These types of windows are excellent for sealing energy. These windows are ideal for kitchens and bathrooms, allowing for homeowners to enjoy the outdoors even in inclement weather.
Casement Windows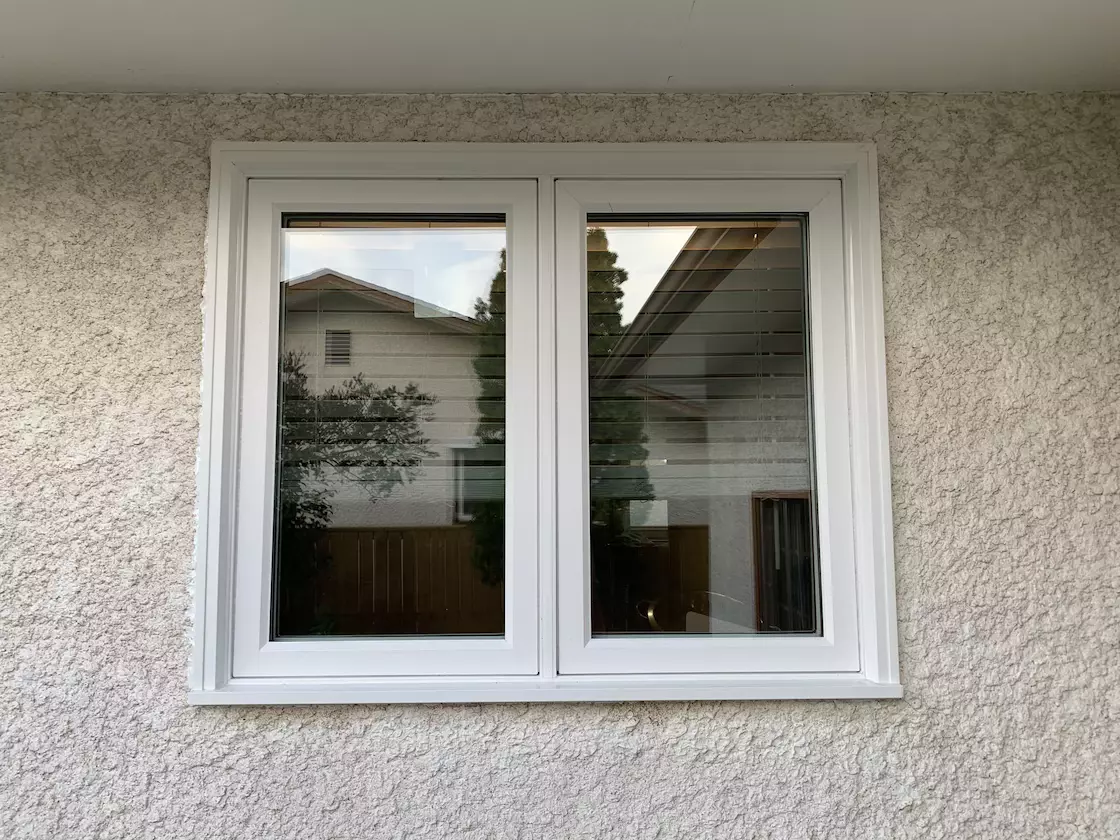 Casement windows are hung singly or in a pair. They work with the cranks that swing the sash inward or outward. Since they open fully for quick cleaning and provide perfect ventilation, they can bring in a breeze, and they are a popular choice among many people both for replacement and new construction windows.
Casement windows are also very good at retaining heat, but they can sometimes be difficult to operate. If you live in an area such as Winnipeg, Manitoba, where there's a lot of wind or rain, it might make sense to go with sliders or another design that allows for easy movement without compromising security or weatherproofing.
Double-Hung Windows
Double-hung windows are classic in style and feature an upper sash on the outside. The stash is comprised of slides down and a lower inside sash that slides upward. Hidden springs, weights, or function devices help lift, lower and position the stash.
Certain types of stashes are removable, rotated, or tilt to enable inside cleaning. If you have the kind that allows only one stash to slide, the window is known as vertical siding or single hung.
Accent Windows
The variety of styles are an essential drawing feature of accent windows. These windows are available in unique shapes, which include round, rectangular, octagonal, bow shapes.
Bow/Bay Windows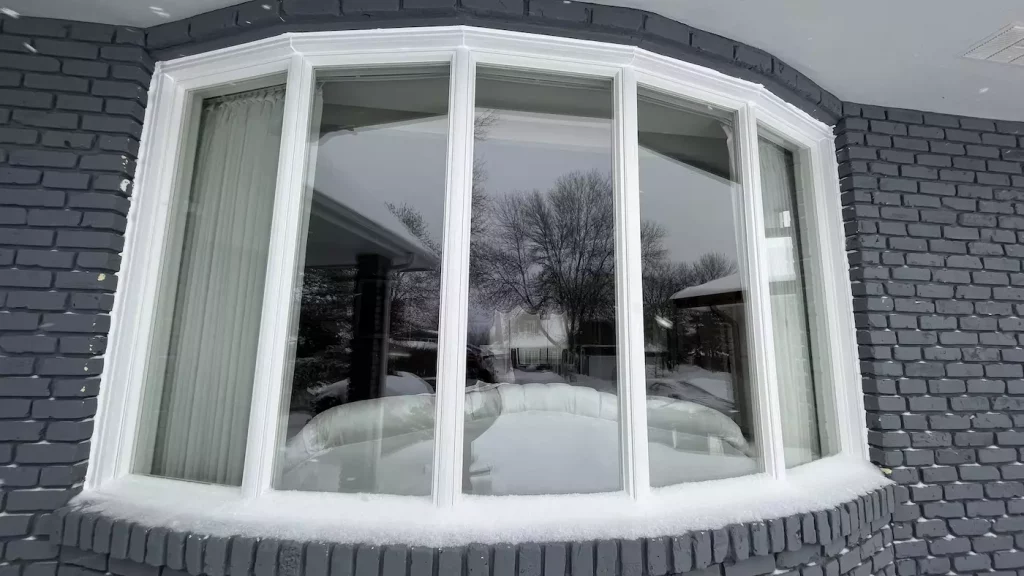 Of all replacement window styles, bow or bay windows are generally considered to be among some of the most attractive. A bow window is a beautiful, elegant window that allows light to spill into a room. In addition to being visually appealing, bow windows are also very effective at diffusing sunlight into a room and creating an inviting atmosphere. 
Bow or bay windows are good choices if you want to make a room feel bigger. These classic windows add visual space and provide a great view, while helping to brighten up a room's appearance by letting in more natural light.
Bay or bow window styles are built around three parts: a center part that bows outwards, paired side-by-side parts that lean inwards, and an overhang above them all. Today, there is such a wide range of window styles available that it can be hard to choose; many homeowners end up choosing between various sizes of bay or bow window designs without giving much thought to their home's architecture.
Awning Windows
If you're looking to replace some of your home's outdated windows, try out awning windows. These special-purpose, hinged casement and double-hung variants are designed to maximize natural light in rooms by angling inward from both their top and bottom edges. Since they swing from their sides, rather than their tops or bottoms, awnings provide unobstructed views when fully opened and often include shades that roll down into place during extreme weather conditions such as storms or strong winds.
Picture Windows
When it comes to home replacement windows, one size doesn't fit all. Picture windows offer a striking aesthetic that adds instant curb appeal to any home. The reflective surface of a picture window will enhance almost any decorating style; you can use an evergreen bough as a backdrop for Christmas and then change to beach towels for summer time fun.
Upgrading your home with picture windows is a great way to add value, allow more natural light into dark rooms, and enjoy better views of your surroundings. Energy-efficient replacement windows can cut down on monthly energy bills and are simple to use. They're also available in a wide range of colors and designs so you can find replacements that fit well with existing architecture. With so many benefits, it's no wonder they're one of our most popular home upgrades!
If you have a large home, consider investing in some picture windows. They're best used as a focal point of an area or room, so plan accordingly before installing them. 
The cost of window replacement can vary widely depending on what type of window you get. The most expensive ones will be double-paned, energy efficient models with special coatings that block ultraviolet rays from entering your home. On average, however, replacement windows cost between $250 and $500 per window installed. This might seem like a lot at first glance but keep in mind that it's cheaper than building an entirely new home!
Window Installation Cost in Winnipeg
When you're planning a big renovation project, it's easy to forget about the little details like window installation costs. But when you come right down to it, your windows are one of the most important features of your home, whether they're in the basement or up in the attic.
There are a number of variables that can affect window installation costs, including style, size and location. The installer you choose will also affect final costs. While prices vary from company to company, most estimates for replacement windows come out to between $300 and $4600 per window. That can seem like a lot—and it is!—but it's money well spent when you consider how much money you'll save on heating and cooling bills over time. 
To get an accurate quote, ask the window installation company to visit your home and provide detailed cost estimations based on what they see. Window replacement costs may include installation supplies like vinyl replacement frames or hard-coated glass (as opposed to tempered glass). Each project is different but these materials tend to add about $100-$200 each.
Here's a table for home window installation costs in Winnipeg:
Window Replacement Cost in Winnipeg

| Window Type | Cost | | Window Location | Cost |
| --- | --- | --- | --- | --- |
| Casement windows | $550-$1400 | | Living room | $1200-$5200 |
| Awning windows | $550-$1250 | | Dining room | $600-$2000 |
| Single hung windows | $450-$1100 | | Kitchen | $550-$1200 |
| Slider window | $450-$1300 | | Bedroom | $650-$1250 |
| End-vent window | $750-$1500 | | Bathroom | $450-$800 |
| Bay/bow window | $2400-$5400 | | Basement | $450-$650 |
| Picture window | $350-$900 | | Basement – concrete cut | $2500-$4500 |
| High profile picture window | $400-$1200 | | Garage window | $350-$900 |
Window Material
Windows comprises various materials such as wood, aluminum, steel, fiberglass, or a combination of one or more of these materials. You should know that materials that provide better weather protection are more expensive. But, the expensive ones have an advantage because they offer low maintenance and save more energy.
Vinyl Windows
Vinyl windows consist of materials such as rigid, impact-resistant polyvinyl chloride (PVC). It has a hollow space inside, which makes it resistant to heat loss. It is a prominent name in the replacement market.
Clad Wood Windows
These windows are made of wood on the inside and clad with a rugged, attractive jacket of aluminum or vinyl. It is available in-stock colors, the cladding coats both the sash and frame. Also, it keeps windows almost maintenance-free for a long time. Vinyl makes the color permeate the materials to prevent scratches.
On the other hand, the aluminum type may scratch, but it is more rigid and available in more comprehensive colors and simpler to paint. Both types of clad wood windows don't rust or rot.
Wood Windows
Wood inclines to be the most prominent window material, as it doesn't conduct cold or allow for condensation compared to other materials. Typically, they come unfinished unless ordered otherwise. If you intend to paint the window, buy them primed on the frame and sash to avoid extra work.  Also, you can order pre-painted wood windows in some popular colors to avoid painting altogether.
Ways Windows Are Opened
There are various ways you can open a window. We shall look at a few of them below.
Cranks
Casement and hopper windows use cranks as a means of opening and closing. Some manufacturers offer cranks in non-metallic finishes. But, some types have fold-down handles that make them slightly conspicuous.
Sliding Mechanisms
Many sashes on vinyl or aluminum windows are lightweight, hence they can slide in the sill tracks. However, large and door-height sashes need to be supported by rollers.
Latches and Locks
Latches on the frame are utilized to keep the window tightly closed. On the other hand, it is best to have two latches on tall wide frames of hinged windows. Alternatively, double-hung windows, sash locks pull the upper and lower sash together to reduce drafts.
Keyed sash locks enhance security. For sliders, it is best to search for security locks because they help the operable sashes from being levered open.
Counter-Balances
You can find this type of lock on double-hung windows. The sash is counterbalanced on the sides by weights or another counterbalancing measure, like torsion screws. There are some replacement windows, and friction may be the only reason the sashes are in place.
Choosing the Right Windows For Your Home
It can be a challenge to know what kind of replacement windows are best for you. When you're choosing a new set of windows, it is important to consider factors such as window type, energy efficiency and cost. By consulting with an expert, you can make an informed decision on which types of home replacement windows will suit your needs best.
For example, wood or vinyl windows might not be a good choice if you live in an area prone to storms or high winds. Additionally, older homes might not have the structural support needed for newer styles of home replacement windows that require more installation hardware. If your home has structural issues or if you live in an area that experiences frequent storms, consult with a professional before deciding on a style of home replacement windows.
In addition to considering how long you plan on living in your home, consider future resale value when making your home improvement decisions. Depending on where you live, certain styles of home replacement windows may increase resale value while others may decrease it. 
You should also ask yourself how much time and money you want to invest into home replacement windows. Home replacement windows can range from simple replacements, like adding storm doors or repairing cracked glass, to complex projects like completely replacing all exterior doors and installing new siding.
You should decide early on whether you want to handle these projects yourself or hire professionals for assistance. Home replacement windows are not only helpful in improving energy efficiency but also help reduce outside noise pollution and enhance curb appeal.
Windows Made To Measure
There's a real art to creating custom window frames, so don't be surprised if it takes a few days or weeks to have yours made. But when they arrive and you see how good they look in place of your old windows, you'll understand why it was worth it.
And while high-quality replacement windows do cost more than ready-made versions, their energy efficiency will help offset that additional expense over time—which means even better savings on heating and cooling bills once you install them.
Not only that, but many homeowners are eligible for tax credits and rebates from local utility companies when installing new windows. For example, Energy Star offers up to $200 back on qualified purchases (that includes doors) through its Residential Energy Efficiency Program (REEP). You can also check with your state or local government as well as local utility companies about any applicable rebates.
Consider Energy Efficient Windows
The average replacement window can save you about 50% on heating and cooling costs. Most people underestimate how much energy their old, drafty windows are costing them. If you're looking to replace your old ones, it's a good idea to look into energy-efficient models; these will help keep heat in during winter and cool air in during summer without costing you a fortune at the end of each month.
In fact, some manufacturers offer financing options that allow you to pay off your new windows over time as part of your monthly utility bill. Contact Arctic Star Windows to learn more about Energy Star rated home replacement windows.
You may also want to consider getting tinting added to your new windows; just a few shades darker than standard glass can cut down on glare, especially if you live in a sunny area. This can improve visibility inside and out by reducing harsh light coming through your home's interior or exterior walls. 
Conclusion
A window is a vented boundary provided in a wall opening to permit light and air into the house and give an outside view. There are many types of windows you can install in your house. We have discussed all the popular choices you can select from to make your home look the way you want.
Window installation is best done by professionals because of the complexity of the process. At Arctic Star Windows, we carry outdoor installations in Winnipeg and surrounding areas using our experienced team. Contact us today to request for an accurate quote for your window installation or replacement. We offer quality and outstanding services.